Dive into a Business Diploma career at Fleming College Toronto, located in the heart of Canada's bustling business and finance capital, Toronto. Students will gain all the skills and know-how for success in a global business environment.
Duration:

Two Years
(four semesters)
Start Dates:

Fall (September),
Winter (January),
Spring (May)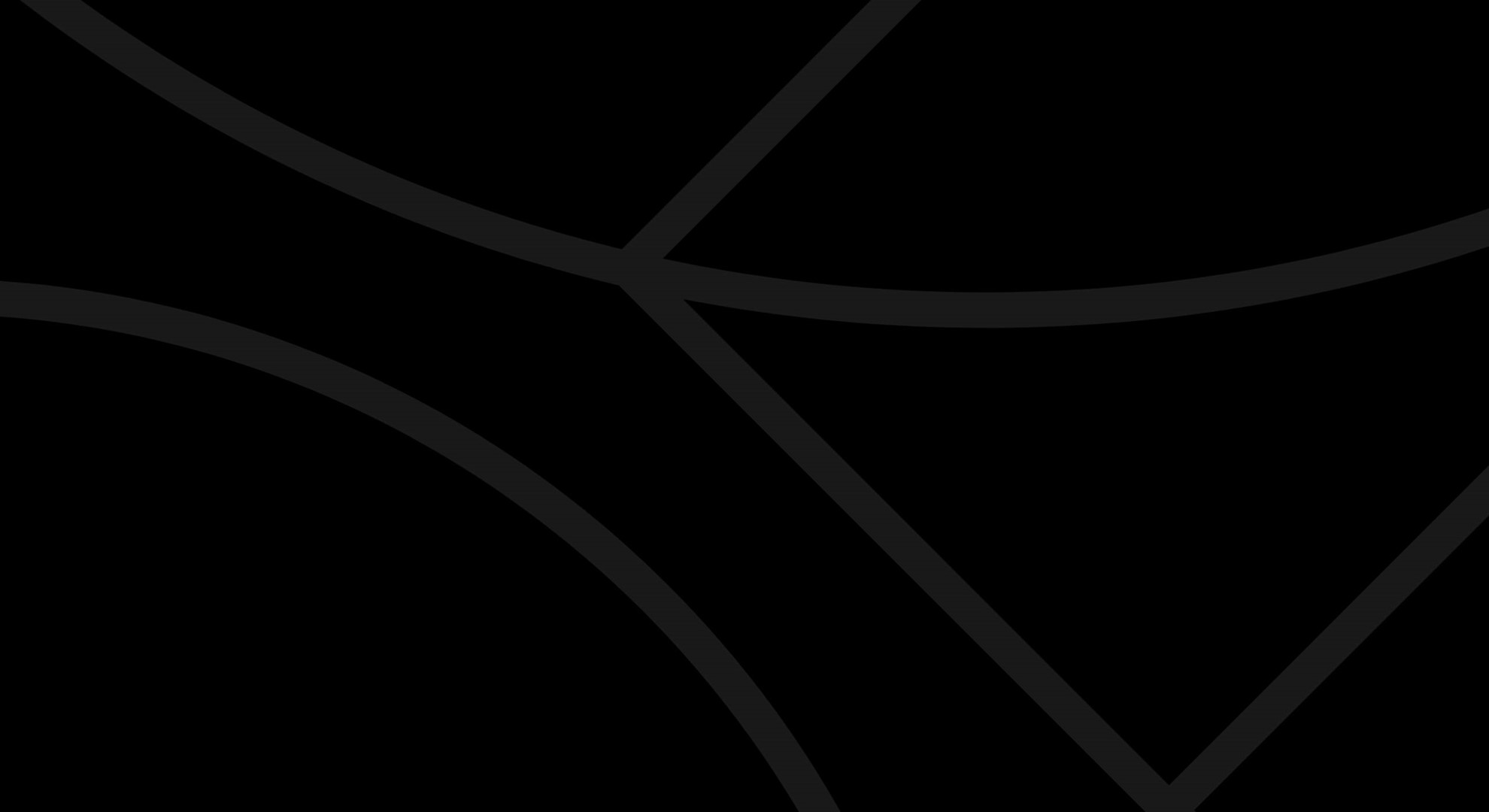 Fees
Semesters
Semester 1
Semester 2
Semester 3
Semester 4
Tuition
$8,125.00
$8,125.00
$8,125.00
$8,125.00
Ancillary Fees
$502.49
$460.99
$502.49
$460.99
Health Insurance
$700.00
N/A
$700.00
N/A
Semester Total
$9,327.49
$8,585.99
$9,327.49
$8,585.99
Academic Year Total
$17,913.48
$17,913.48
Total Tuition Fees
$35,826.96
*Tuition and fees subject to changes.
*Health insurance is mandatory and non-refundable.
Scholarships and Awards:
Click here to learn more about entrance scholarships and awards.
Program Highlights
Explore the breadth of careers in business with this comprehensive diploma that sets you up for continuing education or employment in management, accounting, marketing, and more. 

 

Our expert faculty bring both academic knowledge and personal experience, providing you with the skills and know-how to jump-start careers after graduation.

Core courses equip you with the fundamentals of financial management, communications, organizational behaviour, international business, operations management, human resources management, marketing, and strategic planning. You will be ready to hit the ground running.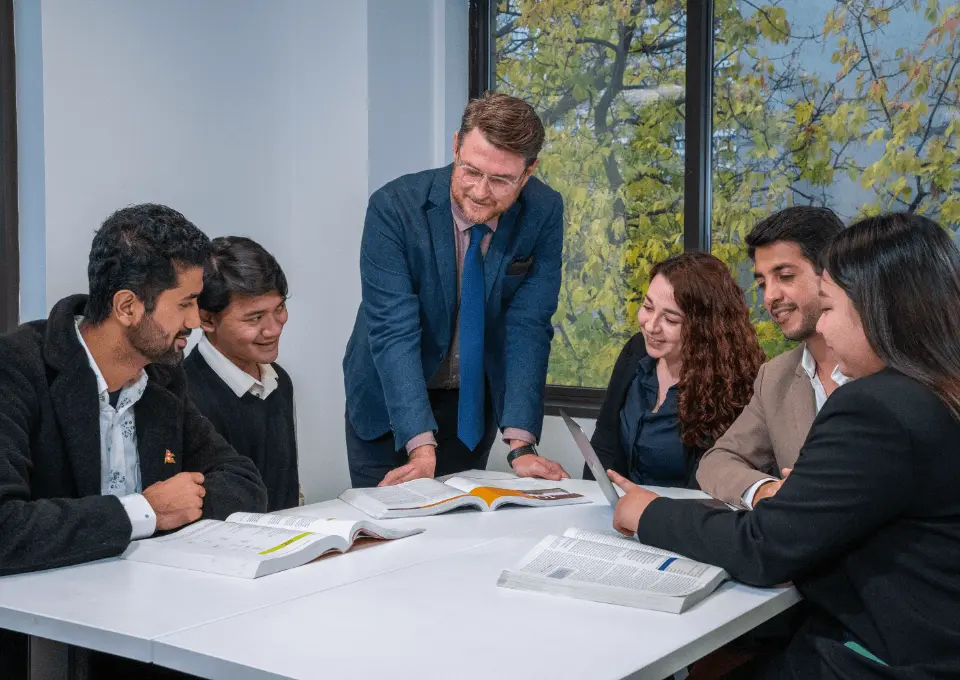 Why Choose Fleming College Toronto
Build your future business community with an international classroom and unprecedented access to Canada's bustling business and finance capital, Toronto.

 

You can expect innovative course content through traditional lectures, case studies, simulations, guest speakers, and field trips, all supported by faculty from a wide range of disciplines and industries.

 

Get access to an extensive suite of support services, such as career services, academic counseling, housing and more.

 

Enjoy the benefits of cosmopolitan life, including a thriving job market, cultural diversity and networking opportunities.

 

"Manpreet Singh discusses his reason for enrolling in Fleming College Toronto's Business Diploma program, his goals after graduation, and his motivation to take his small business international."

"Santiago Castro wants to be his own boss, to run his own company, and to make the big decisions. Studying Business was the way to start his journey to success."
Minimum Admission Requirements
Students applying to Business must meet the following requirements:
Ontario Secondary School Certificate (OSSD) or equivalent. Please check the Ontario Secondary School Diploma Equivalency page for secondary education completed internationally.

Gr 12 C English and Gr 11 C Mathematics with 50% or above, or equivalent.

Successful completion of FCT ELB 5 or IELTS Academic Overall 6.0 with no band score less than 5.5 or equivalent (students applying through the SDS stream must have an overall 6.0 with no bands less than 6.0). You can check the Language Requirements page to understand other options to meet the FCT language requirement.
For more information about this program or its admission requirements, reach out to info@flemingcollegetoronto.ca.
Technology Requirements
PC / Windows
Operating System: Windows 10
Processor: Core i5 - 1.6Ghz minimum
Memory: 8GB minimum
Hard Disk: 160GB minimum
Internet Connection: 2.5 Mbps Download and 3.0 Mbps Upload (minimum)
Students are required to have their own computer, internet access, webcam and microphone.
Some required software applications are not available for MAC OS or Chromebook.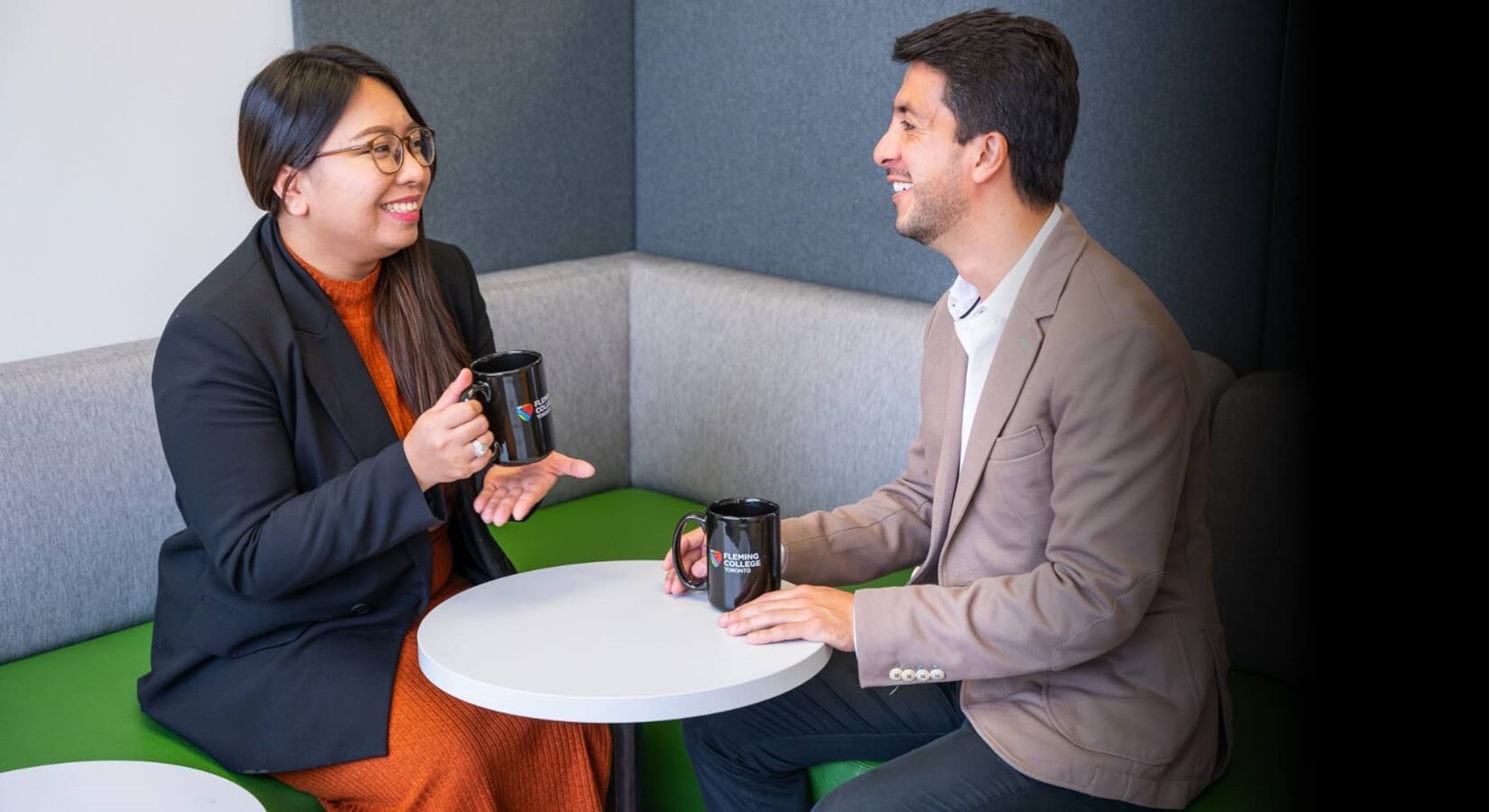 Career Opportunities
Whether you start in an entry-level career or take on an entrepreneurial role, you will have a range of career opportunities upon graduation. Some career options include: 
---
Entrepreneurship

Marketing and Media Management

Supply Chain Management

Financial Management

Banking -Insurance
Investment Management
Real Estate -Municipal Administration
Project Management
Retail Management
Non-profit Administration
Program Courses
Communications I - COMM 201 - Hours: 45
Communications I is an introductory course that provides a foundation in college-level communications by teaching students to read critically, write appropriately for a variety of audiences, conduct and cite research, and revise for clarity and correctness. In seminars and labs, students will engage in both independent and collaborative activities, including the development of a digital portfolio designed to help them become more effective communicators in academic and professional environments.
Introduction to Business and Success Strategies - BUSN 188 - Hours: 60
This course explores the nature of business and the skills required of a business professional in an academic and industry context. Through lectures, seminars, assignments and guest speakers, the course will prepare students for a career in the business world by developing their understanding of the major functional areas of business. There will also be a focus on a number of important business trends and topics including Globalization and Corporate & Social Responsibility. Learners will have the opportunity to develop the fundamental skills required for success in their academic and professional careers including effective time management, reading, study and presentation skills.
Introductory Accounting - ACCT 72 - Hours: 45
This purpose of this course is to introduce students to the preparation and use of accounting information. Generally Accepted Accounting Procedures (GAAP) will be used to record and report the financial transactions and operating results of a business.
Introductory Computing - COMP 578 - Hours: 45
Restricted to Business students
Math Fundamentals for Business Studies - MATH 11 - Hours: 45
This course is a one semester study of the mathematics applicable to the business and financial community. Emphasis is placed on the significance of mathematics as a problem solving and decision making tool. It is designed to complement and reinforce learning within their program and enable students to acquire foundational skills required for competence in their field.
Introduction to Organizational Behaviour - ORGB 24 - Hours: 45
Students will learn the continuum of conventional to sustainable organizational behaviour. Past and proven theories for individual, team, and organizational success meet at the crossroads of creativity and innovation; the critical elements of high-performance organizations. Students discover their own inner workings and how they can complement others and overcome challenges when working in teams. While exploring concepts of organizational behaviour that include conflict, power, politics, negotiation, culture, management, leadership and risk taking, students are armed with the tools of the OB trade. Students apply the approaches they learn to develop their skills in creativity and innovation which will support their ability to drive organizational change for any future career.
*Course Information is subject to change without notification
Cash and Investment Decisions - MGMT 159 - Hours: 45
This course offers business students a basic understanding of how the activities of an organization are reflected in its financial statements. The student is then required to apply that basic understanding of concepts along with analytical techniques to reach financial decisions in an organization. Practical applications of financial concepts to the operation of an organization are emphasized. Topics covered include cash flows and the cash flow statement, working capital management, financial statement analysis, and the capital budgeting process. Project costing and evaluation and the concept of quality earnings will also be included in the topics covered.
Communications II - COMM 202 - Hours: 45
Communications II, building on the foundation of Communications I, is a blended course that teaches students to write and communicate for a variety of professional situations. In seminars, labs and online modules, students will develop a professional portfolio that demonstrates their abilities to meet the challenges of a changing workplace.
Human Resources Administration - MGMT 7 - Hours: 45
This course is designed to provide an overview of key human resources activities and the related legislation affecting today's workplaces. Topics of study include the strategic role of HRM, legal compliance and valuing diversity, designing and analyzing jobs, human resources planning, recruitment, selection, orientation and training, performance appraisal, compensation, employee benefits & services, labour relations, and occupational health & safety. Participants will also have an opportunity to discuss legal compliance in the areas of human rights, pay/employment equity, employment standards, labour relations, and health & safety. Applied learning opportunities include case study analyses, identification of Human Rights Code violations in the recruitment process, completion of an environmental scan for the purpose of HR planning, development of a job description/specification, evaluation of employer branding techniques through a review of online job boards, critique of a performance appraisal scenario, web-based research pertaining to functional areas of HR, recommending best practices for employee onboarding and development of a wellness program proposal for an industry specific employer. Note: This course has been approved by the Human Resources Professionals Association (HRPA) as a credit toward the Certified Human Resources Professional (CHRP) designation. To qualify to write the Comprehensive Knowledge Exam, it is necessary to attain an overall average of 70 percent in the nine subject areas covered, with no grade of less than 65 percent. Prior to enrollment in this course, it is recommended that learners have attained the learning outcomes of Communications I (COMM201).
Marketing - MKTG 14 - Hours: 45
This is an introductory course in Marketing designed to provide an awareness and understanding of the role and function of marketing within an individual firm and throughout the total economy. The student is introduced to the principles and techniques of marketing and its various functional areas. The various marketing strategies utilized in product or service planning and development, pricing, distribution and promotion in response to the needs and wants identified in various markets are explored.
Microeconomics - BUSN 18 - Hours: 45
This course provides an introduction to the economic behaviour of consumers and firms in the marketplace. Microeconomics studies the way that individual markets work and how regulations and taxes affect trade, consumers, and producers.
Operations Management - BUSN 20 - Hours: 45
This course is designed to give students an understanding of the functions of business operations. Students develop an understanding of the important factors and some of the analytical tools that can be used to improve productivity and customer service. Emphasis is placed on the cost benefit relationship.
*Course Information is subject to change without notification
Business and Contract Law - LAWS 4 - Hours: 45
Business people and consumers in Ontario are affected by a broad spectrum of federal, provincial and municipal laws and a variety of court-created legal principles. This course serves as an introduction to business and consumer law.
Integrated Sales Management - MKTG 8 - Hours: 45
Relationship Selling is the sales technique that focuses on the interaction between the buyer and the sales person, rather than the price or details of the product. Businesses have realized the importance of a win-win philosophy and that a long-term successful partnership is good business practice. This course demonstrates the role of sales in today's world of business. Without an integrated sales management effort, businesses will not be successful. Students will examine the power of relationship selling and the steps required to prepare, build and present an effective sales presentation.
Intermediate Computer Applications - COMP 103 - Hours: 45
Through the use of business-related projects, this course builds on the common functions of file management, word processing, spreadsheets, databases, and electronic presentations to enhance skills relevant to a business environment. The integration of these applications through sharing, embedding and linking data is a major component of this course.
Management Essentials - ORGB 7 - Hours: 45
This course is an introductory course to Management. The course will provide an overview of the functions and roles that managers perform; the current challenges that managers face, and the skills that are required to be a successful manager. Students will complete self assessments in order to become more aware of their managerial competencies. Through the use of facilitation, practical application, and case based problem solving, students will apply management theory to everyday management problems and challenges. This course is a blended learning course. Students will be expected to work independently utilizing the web to prepare for the face to face components of the course. This self-directed learning may include targeted readings, opinion polls, professional development assessments, problem solving situations and application of theory. On line and face-to-face learning is integrated in order to maximize the quality of the student's learning experience.
New Ventures - BUSN 61 - Hours: 45
This course is designed to develop an understanding of planning the start-up of a business, its ongoing management and strategies for growth. Students learn about the legal forms of business ownership, the importance of financial analysis as a success indicator for the business and appropriate marketing tactics for promoting small business. The student will develop an actual business plan for their own business idea.
Macroeconomics - BUSN 13 - Hours: 45
Macroeconomics is the study of the overall performance of the economy. Fluctuations in the level of national output, incomes, prices and employment are analyzed along with government policies to control these fluctuations.
Business Statistics and Quantitative Methods - MATH 46 - Hours: 45
The understanding and application of basic statistical analysis to business related problems will be examined. The introduction of statistical measures, data collection and probability distributions will be brought together to perform statistical inference with confidence intervals, hypothesis testing and then simple linear regression. The calculation and interpretation of statistical measures will be learned within a format of class time practice, specific course assignments and use of the Excel computer spreadsheet.
Corporate Social Responsibility: Ethical Conduct of Business - MGMT 66 - Hours: 45
We live in the age of globalization. Due to many recent events, corporate business is under fire to manage their activities in a culturally sensitive and ethical manner. Moreover, many corporations are learning that it is good business to do good. In this case-based course we will examine various specific ethical dilemmas in the conduct of domestic and international business. We will discuss the structure of the corporation and the various contemporary ethical issues it presents. Finally we shall discuss the best practices of many leading companies to conduct their business in a socially responsible way.
Creative Problem Solving, Innovation and Change - ORGB 8 - Hours: 45
In today's constantly changing world, this course gives students the opportunity to ignite their creativity and innovation, learn creative problem solving methods, their problem solving styles, design thinking, tools, and strategies. It helps you learn to be more flexible, adaptable, see things from different perspectives and be resourceful. The application of these and change management strategies will assist you to discover new opportunities to solve simple and complex problems in a variety of workplaces and life situations.
Introduction to Applied Projects - APST 174 - Hours: 45
This course provides a basic background in applied projects as well as experiential learning opportunities for the student and will focus on actual project consulting opportunities with local, regional and/or international businesses and organizations. In keeping with current industry practices, students are organized into Client Teams and are assigned projects that are approved by the supervising faculty and the client. Teams follow the Agency protocols in order to complete the agreed deliverables within the 15-week semester.
Management Accounting I - ACCT 22 - Hours: 45
This course explores the uses of accounting information for decision-making purposes. Students will begin with an understanding of fundamental cost concepts as they relate to a manufacturing environment, as well as an understanding of cost behaviour. They will then apply various techniques to analyze and interpret information as it relates to different decision situations faced by managers. Note: It is recommended that students have completed Math Fundamentals for Business Studies (MATH 11) and Introductory Accounting (ACCT72).
Negotiating Skills - ORGB 9 - Hours: 45
Students will learn practical negotiation skills and process theories that can be successfully applied to life and workplace situations such as getting a job, getting a raise, buying and selling a car and resolving disputes.
General Education Elective - GENED - Hours: 45
All graduates of diploma programs require general education credits. These courses allow you to explore issues of societal concern by looking at the history, theory and contemporary applications of those issues.  Your program has designated some required general education courses.
Frequently Asked Questions (FAQs)
The best diploma for business can vary depending on an individual's interest, career goals, and the specific area of business one wants to focus on.
Obtaining a Business Diploma at Fleming College Toronto offers benefits such as acquiring knowledge in financial management, communications, organizational behaviour, human resources, and more from our extensive curriculum.
Fleming College Toronto doesn't offer the option to specialize in a specific area of business, but students will still have the opportunity to learn about a variety of industries during their studies. To learn more, visit the Program Courses section.
Yes, completing a Business Diploma can provide a solid foundation and may possibly open doors for further education in the field.
A business diploma offers a more focused and practical approach, providing fundamental knowledge and skills in specific business areas. In contrast, a business degree provides a broader education, covering a wide range of the business industry and often including more in-depth theoretical and analytical studies.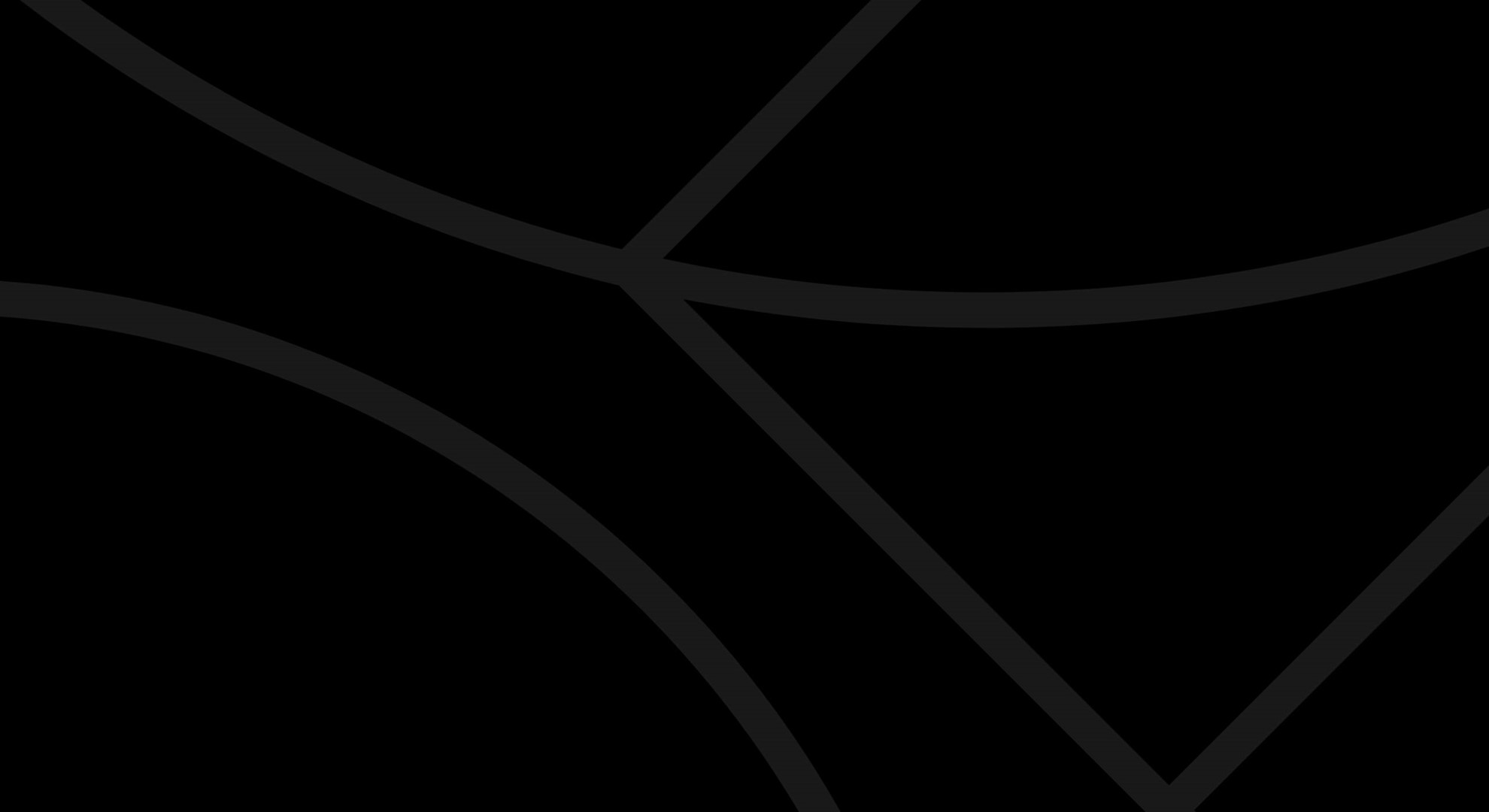 Your Fleming. Your Future.