Welcome to Fleming College Toronto
Fleming College and Trebas Institute Ontario have partnered to offer Fleming's programs in Toronto, Ontario. Here, you can access not only employment and networking opportunities, but all the entertainment and multicultural events of Canada's largest and most diverse city.

"My experience in this program has been very good from day one. The instructors are extremely supportive and the course content is practical and prepares you for the real working world."

"The courses are useful for work, and the instructors helped me not only with academics but also with adapting to life in Canada. I would recommend it if you want to know more about how business works internationally."

"My favourite part is the experience that the professors bring to the classes. Thanks to their expert instruction, I can confidently say that I am now prepared to manage and lead a team while handling different risks and opportunities related to projects."

"The professors have created a helpful environment that encourages cooperation and problem-solving. This has been a remarkable opportunity to acquire knowledge that will improve my career prospects."

"This program gave me a deep understanding of the different fields that supply chain management brings together, like logistics, customs, demand planning, and overall operations. I'm a hands-on person, so I loved working with the simulation software, which lets you see the consequences of all your decisions in the supply chain. That gave us real experience for our resumes."
Latest News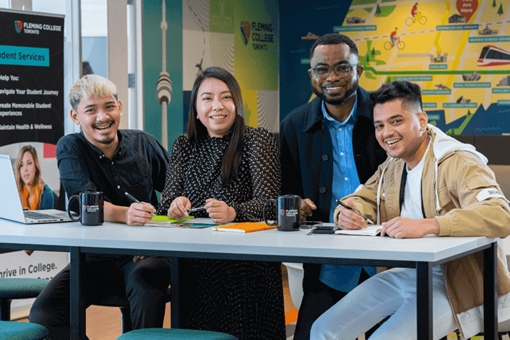 Fleming College Toronto is launching Fleming College Toronto English Language Bridge (FCT ELB), a brand-new pathway for students looking to study in Canada at a college level.
Fleming College Toronto offers students both a blended program delivery model & fully online option.
Explore News
Blog
Learn about the unique benefits of different types of English programs.…
Learn how FCT ELB will help you adapt to the Canadian education system and thrive in the classroom.…
If you've got the winter blues, review these tips to boost your feelings of well-being and better enjoy the winter.…
Explore Blog